Adyson is one of the
Firestorm Girls
in Danville-2.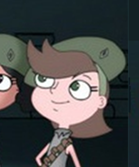 Physical Appearance
Edit
Adyson has straight brown hair with bangs and wears a green headband. She also wears a green berret, a sleeveless silver shirt, a brown sash and pants and black boots.
She and Katie are the only ones to have green eyes.
She and Milly are the only ones with brown hair.
She and Gretchen appeared to make the arrest, but they didn't touch Doof-2, as Holly, Katie, and Ginger did.