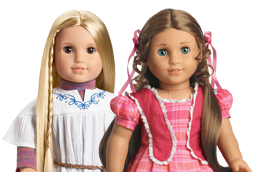 American Girl is an American line of 18-inch dolls released in 1986 by Pleasant Company. The dolls portray nine– to eleven–year–old girls of a variety of ethnicities. They are sold with accompanying books told from the viewpoint of the girls. Originally the stories focused on various periods of American history, but were expanded in 1995 to include characters and stories from contemporary life. A variety of related clothing and accessories is also available. Pleasant Company was founded in 1986 by Pleasant Rowland, and its products were originally purchasable by mail order only. In 1998, Pleasant Company became a subsidiary of Mattel. The company has been awarded the Oppenheim Toy Portfolio Award eight times.
Dolls and Accessories
Edit

The Historical Characters line of 18-inch dolls were initially the main focus of Pleasant Company. This product line aims to teach aspects of American history through a six–book series from the perspective of a 9– to 11–year–old girl living in that time period. Although the books are written for an 8- to 13-year-old target audience, they endeavor to cover significant topics such as
child
labor,

child abuse,
poverty
, racism, slavery, alcoholism, animal abuse, and war in manners appropriate for the understanding and sensibilities of their young audience.