Eggs are laid by females of many different species, including
birds
, reptiles, amphibians, and
fish
, and have been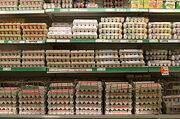 eaten by mankind for thousands of years. Egg yolks and whole eggs store significant amounts of protein and choline, and are widely used in cookery. Chickens and other egg-laying creatures are widely kept throughout the world, and mass production of chicken eggs is a global industry. In 2009, an estimated 62.1 million metric tons of eggs were produced worldwide from a total laying flock of approximately 6.4 billion hens.
Bird eggs have been valuable foodstuffs since prehistory, in both hunting societies and more recent cultures where birds were domesticated. The chicken was probably domesticated for its eggs from jungle fowl native to tropical and subtropical Southeast Asia and India before 7500 BCE. Chickens were brought to Sumer and Egypt by 1500 BCE, and arrived in Greece around 800 BCE, where the quail had been the primary source of eggs
Community content is available under
CC-BY-SA
unless otherwise noted.