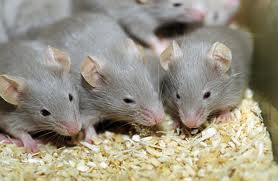 A mouse (plural: mice) is a small mammal belonging to the order of rodents, characteristically having a pointed snout, small rounded ears, and a long naked or almost hairless tail. The best known mouse species is the common house mouse (Mus musculus). It is also a popular pet.
In some places, certain kinds of field mice are also common. This rodent is eaten by large birds such as hawks and eagles. They are known to invade homes for food and occasionally shelter.
Laboratory mice
Edit
There are other reasons why mice are used in laboratory research. Mice are small, inexpensive, easily maintained, and can reproduce quickly. Several generations of mice can be observed in a relatively short period of time. Mice are generally very docile if raised from birth and given sufficient human contact. However, certain strains have been known to be quite temperamental. Mice and rats have the same organs in the same places, just different proportions.