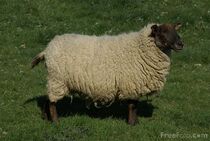 Sheep are farm aminals raised mostly for their wool. A male is called a ram and a female a ewe. A baby is called a lamb. There are no signs of heat for this animal.
Wool Selection
Edit
Selection for wool type, flocking instinct and other economically important traits over the centuries has resulted in more than 200 distinct breeds of sheep occurring worldwide. Modern breeding schemes have also resulted in an increasing number of composite or synthetic breeds which are the result of a crossing of two or more established breeds.
Domestication
Edit
Sheep were among the first animals domesticated. An archeological site in Iran produced a statuette of a wooled sheep which suggests that selection for woolly sheep had begun to occur over 6000 years ago. The common features of today's sheep were already appearing in Mesopotamian and Babylonian art and books by 3000 B.C.