The
tulip
is a perennial, bulbous plant with showy flowers in the genus
Tulipa
, of which around 75 wild species are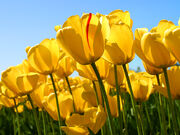 currently accepted
and which belongs to the family Liliaceae. The genus's native range extends west to the Iberian Peninsula, through North Africa to Greece, the Balkans, Turkey, throughout the Levant (Syria, Israel, Lebanon, Jordan) and Iran, North to the Ukraine, southern Siberia and Mongolia, and east to the Northwest of
China
.
The tulip's centre of diversity is in the Pamir, Hindu Kush, and Tien Shan mountains. It is a typical element of steppe and winter-rain Mediterranean vegetation. A number of species and many hybrid cultivars are grown in gardens, as potted plants, or to be displayed as fresh-cut flowers. Tulip cultivars have usually several species in their direct background, but most have been derived from
Tulipa suaveolens
, often erroneously listed as
Tulipa schrenkii
.
Tulipa gesneriana
is in itself an early hybrid of complex origin and is not the same taxon as was described by Conrad Gesner in the 16th century.
Description
Edit
Tulips are spring-blooming perennials that grow from bulbs. Depending on the species, tulip plants can grow as short as 4 inches (10 cm) or as high as 28 inches (71 cm). The tulip's large flowers usually bloom on scapes or subscapose stems that lack bracts. Most tulips produce only one flower per stem, but a few species bear multiple flowers on their scapes (e.g. Tulipa turkestanica). The showy, generally cup or star-shaped tulip flower has three petals and three sepals, which are often termed tepals because they are nearly identical. These six tepals are often marked on the interior surface near the bases with darker colorings. Tulip flowers come in a wide variety of colors, except pure blue (several tulips with "blue" in the name have a faint violet hue)
Art and Culture
Edit
In Persia, the gift of a red or yellow tulip was a declaration of love, the flower's black center representing a heart burned by passion. The tulip was a topic for Persian poets as far back as the thirteenth century.